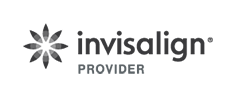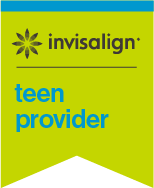 Invisalign Teen is a unique product that brings the efficiency of traditional orthodontic braces with the aesthetics of clear aligners to keep up with your teen's lifestyle. Invisalign teen is comfortable, efficient, aesthetic, and a hygienic way to deliver orthodontic care. Made specifically for younger users, the system offers a unique color-changing indicator to ensure that your child knows if they are wearing the aligners the proper amount. Invisalign Teen also allows for accommodations as your child transitions from baby teeth to permanent teeth.
The Invisalign Teen Difference
Invisalign treatment gives both you and your teen a better teeth-straightening experience.
Corrects both simple and complex teeth-straightening cases
Covered by orthodontic insurance
Proprietary innovations provide up to 50% shorter treatment times*
No pain from rubbing brackets or broken wires and fewer unexpected orthodontist visits
Continue to enjoy all of the foods and activities they love
Removable trays for easy brushing and flossing
Two times more likely to have a boost in self-esteem**
Invisalign Teen is so versatile that it can handle not only the simple cases but also complex bite and alignment problems. Treatment can range anywhere from 12 months to 24 months based on the complexity of your teen's smile needs.
Your teen will need to be seen every three months for in-office visits. However, with our new and exciting implementation of a remote monitoring software, you'll have the option of virtual checkups in the comfort of your home, at your convenience, eliminating unnecessary office visits and saving your family valuable time.
Your Teen's Smile Success
The most important factor in having success with the Invisalign Teen product is patient cooperation. We often rely on parents and the patient to make that honest assessment of their ability to wear the aligners the recommended amount of time prior to starting treatment. We cannot stress the importance of wearing the aligners as recommended to achieve beautiful results in the predicted amount of time.
Why choose Invisalign Teen at Skin to Smile?
Skin to Smile is focused on the patient experience from the very first visit. Our goal is to provide not only outstanding orthodontic care, but also a patient experience at the highest level. To achieve this goal, we embrace the newest technology to deliver orthodontic care in the ever changing age of technology, speed, and innovation.
Invisalign Teen is an easy, comfortable, convenient way to achieve a healthy, beautiful smile for our teen patients. We encourage you to ask us about Invisalign Teen at your next visit to our Morristown orthodontic office!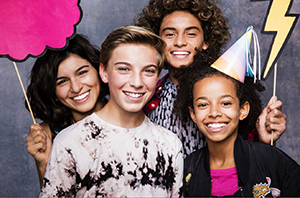 * With weekly aligner changes, compared with two-week aligner wear
** The Invisalign Teen Confidence Survey was conducted in 2014 and polled 3,577 U.S. teenagers ages 13–17 and 2,118 U.S. mothers of teens ages 13–17; plus an oversample of 101 mothers of teens ages 13–17 who wear or have worn Invisalign clear aligners. The survey was conducted by Kelton, a leading global consumer insights and research firm.
Invisalign and the Invisalign logo, among others, are trademarks of Align Technology, Inc., and are registered in the U.S. and other countries.